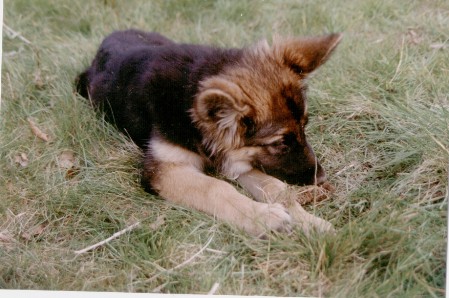 Hello Friends
I was born on January 20th, 1997, when I was as little as I was next to in the picture. I like to remember my childhood, when I was allowed to be impetuous. At that time, my friend Benji was still at my side, who taught me many beautiful things. Unfortunately, Benji left me in February 2002, I don't know where to go, but I never saw him again. My mistress Sylvia says that he is now in dog heaven, where I will go someday. As much as I miss Benji, I don't want to leave Sylvia that soon. I have had many wonderful experiences with her and I wish to have more of them.
Newspaper

today I want to tell you about an unusual event. My mistress Sylvia and I were featured in the daily newspaper...
continue reading
Therapy
At the end of 2004 I went to see my animal health practitioner with Ronda because she had pain in her left hip...
Dog-Dancing
I would like to tell you about a very great day. Sylvia and I went to a tournament where we could dance dogs ...
continue reading